Meteor Power Limited was one of a handful of companies invited to Millbrook Proving Ground as part of a UK Trade & Industry initiative to introduce international companies to UK companies with specialist skills and innovative ideas.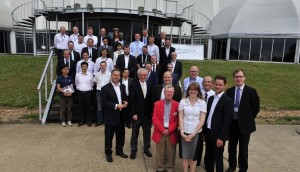 From the event press release:
Investors from across Europe, China, Japan and Australia flew into the UK this week to make a guest appearance at world famous Millbrook, the leading vehicle test, validation and engineering service provider.
At this 'Speeding Towards International Success' event on July 2nd a select group of automotive, engineering and high performance technology companies from across the South East Midlands gathered to meet and greet the international delegation.
The investors, invited to Millbrook by the South East Midlands Local Enterprise Partnership (SEMLEP) and UKTI, the Government agency set up to attract foreign direct investment, were treated to a behind-the-scenes tour of this highly secure testing facility.
A popular backdrop for many Hollywood blockbusters, guests were given the unique opportunity to see the 70km of test tracks in a variety of exhilarating passenger experiences, including an electric Mercedes Benz, Aston Martin and military-style SWAT vehicle.
A number of key note speeches from the region's leading automotive experts, including Millbrook, Cranfield University, Transport Systems Catapult, Prodrive and Nissan, were held throughout the event, as part of an insight into the 'complete circuit of technical excellence' that the South East has to offer.
Daniel Mouawad, Chief Executive of SEMLEP, said: "It is exhilarating to welcome this UKTI delegation of investors to our area and to introduce these businesses to fellow high performance companies from our area who have had a unique opportunity to forge new international relationships. It is particularly timely, in the lead up to this week's Grand Prix, to be able to showcase the speed and expertise of the South East Midlands to the world."
Alex Burns, Chief Executive of Millbrook explained: "Millbrook's ongoing strategy is focused on raising awareness and building relationships with international prospects, and today's event was particularly important in supporting our engagement activities with key foreign companies. These new connections will enable us to grow our customer base and service an even wider range of clients in the automotive, transport, petrochemical, defence and security industries."
Growth Minister James Wharton, expressing his support for the event, said: "Local Enterprise Partnerships are driving growth right across the country and I congratulate SEMLEP for creating such a great opportunity for investors from around the globe to see the skills and opportunities available across the whole region. They are showcasing the best of British industry."